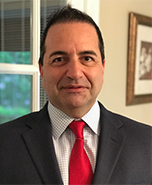 Frank C. Panetta, Esq.
EDUCATION: HOFSTRA UNIVERSITY SCHOOL OF LAW Juris Doctor – May, 1998 QUEENS COLLEGE OF THE CITY UNIVERSITY OF NEW YORK Bachelor of Arts, Major: Pre-Law, Minors: Psychology and English – February, 1994 UNIVERSITY OF MINNESOTA Honors: Deans list each and every semester of enrollment. GPA- 3.86 – January, 1987 to June, 1988 WORK EXPERIENCE: MASSIMO & PANETTA, P.C. – PARTNER Managing Partner – Of Counsel to Consultant to Margiotta & Ricigliano – Practicing in Federal and State Courts, Civil and Criminal matters. – Est. July 2000 TRIALS TO VERDICT: Criminal, Personal Injury/Med Mal., Family Court JDs & Abuse LAW OFFICE Read Full Bio
Nicholas J. Massimo, Esq.
EDUCATION: BENJAMIN N. CARDOZO SCHOOL OF LAW Juris Doctor – May 1993 Honors: Cum Laude Cardozo Criminal Law Clinic – September 1992 – May 1993 THE GEORGE WASHINGTON UNIVERSITY Bachelor of Accountancy – May 1990 WORK EXPERIENCE: MASSIMO & PANETTA, P.C. – PARTNER Managing Partner – Practicing in Federal & State Courts, Civil and Criminal Matters – Est. July 2000 LAW OFFICES OF ROBERT J. BRUNETTI Criminal Practice/Personal Injury/Matrimonial – December 1999 to July 2000 THE LEGAL AID SOCIETY OF NASSAU COUNTY, NEW YORK Deputy Bureau Chief of the District Court Bureau – January 1999 to December 1999 County Court Read Full Bio